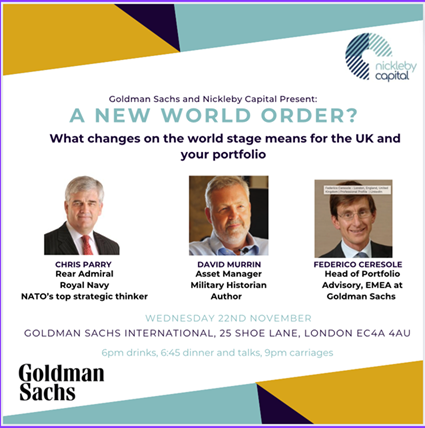 David Murrin - Principal of Global Forecaster. With a long background as an asset manager, military historian, and strategic political/military Thinker. He is the Author of Breaking the Code of History which charted and then predicted the rise and fall of empires and wars, accurately predicting the path of major geopolitical events over the past two decades. Including the arrival of the Pandemic and the invasion of Ukraine.
 
Chris Parry - Formerly a Rear Admiral in the Royal Navy and a NATO commander, Dr Chris Parry runs a geopolitical forecasting company and is a leading strategic thinker, forecaster and author.  
 
Understanding the geopolitics of the 21st century:
Polarisation, the global arms race, the rise of China and the Asian Super Empire.
The decline of US and Western Christian Super Empire.
Ukraine as a proxy war of major powers and the path to WWIII.
What this means for you today:

AI, mass unemployment, climate emergency and migration.
UK and US elections and how to fix broken political systems.
What this means for global economics and how to protect and grow your wealth
Admittance is by invitation only.