David Murrin's views and analysis straight to your inbox
Introduction
David developed a unique and effective set of behavioural models to predict financial markets, whilst at JPM, which were extremely effective and profitable. They acted as the foundation for his 20-year career as a CIO of his hedge fund Emergent. With some remarkable returns in the most bearish of markets (e.g 84% in 2008 - see track record). His current Arkent scenario predictions expect a major paradigm shift that will result in a western debt crisis and a greater stock market decline than 2008 with the most serious Financial, political and geopolitical consequences.
This service is designed to provide long term and medium term investment outlooks in a range of markets including:
Stocks
S&P 500
Euro Stoxx 50
China 300
DAX
India 50
FTSE
FX
Dollar Index
Sterling
Euro
Yen
Commodities
Gold
CRB
Oil
Copper
Carbon Emissions
Iron Ore
Below is an example of the brief market analysis available on David's blog. But when you subscribe to receive his full financial market analysis you will get a lot more detail and exclusive guidance on what to do with your investments.

Example Market Outlook
Market Outlook: Dollar Index Long Term - Bearish
The very long term chart over 30 years shows the dollar in a major bear market that is a diagonal five wave decline. As such it requires a new low sub 7000 and as low as 5500 to complete the down cycle in the next few years.
We are now in Big 5 and have seen wave 1 down to 8600 and a wave 2 bounce up to 9800. From here we expect to see the index turn down and commence a move into the 8000 region as wave 3 unfolds. This view is valid below 10100.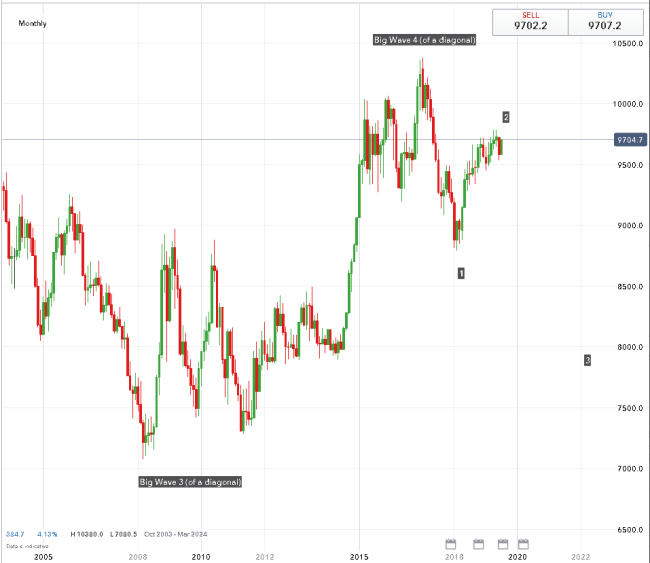 Subscribe to receive regular updates
This service will be launching soon and provide access to exclusive online content and also receive email updates. If you are interested in this service please complete the enquiry form below and David will be contact you asap.