Submitted by
David
on
Sat, 31/08/2019 - 11:03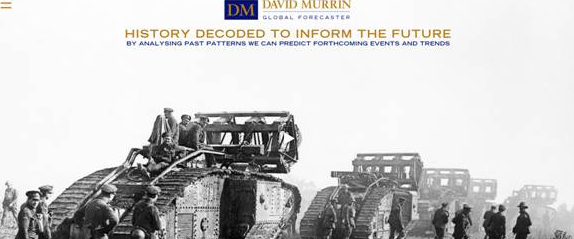 Dear Murrination reader
Thank you for your support over the years.
It is almost a decade since Breaking The code of History was published with its predictions for the Future. Sadly they are all coming true before our eyes and the urgency with which we need to act to avert some rather unpalatable outcomes has increased.
To that end,I have launched a new website as part of a campaign to widen my audience and increase awareness of the issues that we face and possible strategies to navigate through the rapids. Having proved the validity of the concepts within BTCH by the accuracy of its predictions. I am now moving to the second phase called Applying The code of History which is focused on creating actionable strategies using the lessons of the past to inform our decisions.
This new site is now available at the old address www.davidmurrin.co.uk
For those focused on trading the Financial Markets, there is a new dedicated subscription section that will be of interest.
So please check it out and send me your feedback.Most importantly pass it on to friends and encourage them to sign up (it is free!) and interact with any thought that you have about my Murrinations.
On Monday you will receive an article about the disengagement of corporate America from China and over the few
I look forward to your support thoughts.
Warmest Wishes
David