Submitted by
David
on
Thu, 22/08/2019 - 10:20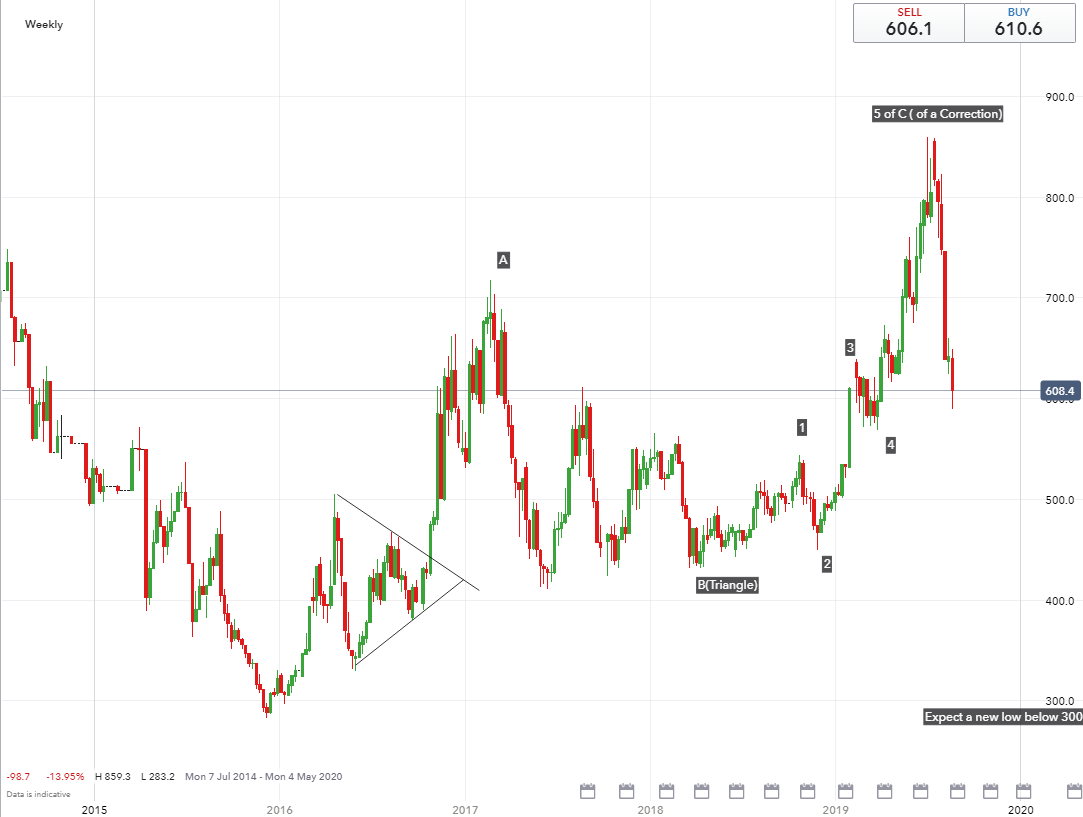 Stock Markets
The global stock market complex has clearly turned downwards from the point we located a few weeks ago at 3020 on the S & p 500 with a 3050 limit. Over the past years the strongest stock market has been the US. Now that it turned downwards the weaker ones have taken the opportunity to accelerate their declines. Over the past week, all stock market indices have corrected sideways and consequently sentiment has calmed down. However, today's high at 3404 should end the correction and the downward bear market is now set to resume.
Metals (Image of iron ore shown above)
Notably, our industrial metals complex of copper and iron ore have been weak during this pause suggesting that they are leading stocks into a low demand environment for commodities as the global economy shrinks.
Bonds
We expect a resumption of the bullish Bond trend as the real yield collapse continues, Bunds look to have completed a triangle and will pop upwards to gain a couple of points. In the US we expect the yield collapse to be much greater when it breaks out of these sideways patterns compared to Bunds. However, we continue to note our serious concerns that there will be a blow-off and reversal in this bond trend at some stage that will signal the onset of a sovereign debt default crisis. So for long term bondholders with large positions, this is the time to be offloading whole portfolios.
FX
Relatively quiet. But we are watching the Dollar index for signs of a reversal before it starts its next bear market. Future safe havens will be Yen and Sterling(yes Sterling!) as we believe that it will be the lifeboat of Europe once Italy moves closer to default.