Submitted by
David
on
Tue, 16/09/2014 - 08:52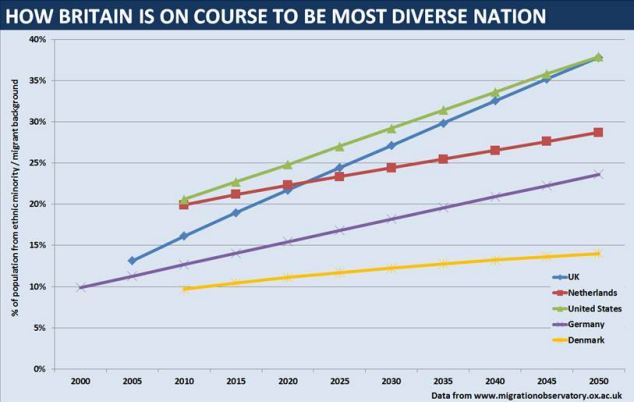 The demographic trends in the UK and Europe support the 5 stages of empire projections discussed in Part I with a shrinking German population and marginal growth in France and with Britain's booming birth rate (1.91 children per women) and younger average age than its neighbours in Europe. By 2060 Britain's population will have grown by 25% from 61 to 77 million. Germany is currently at 82 million, but over the same period will have shrunk by 12 million. Under the same projections the EU will have a population that will have hardly increased to 505 million (495 million now) making Britain 15% of Europe's population.
However, the nature of the population expansion in Britain warrants further examination as Britain shows the highest ethnic expansion rate in the West, which will bring its own challenges of social integration. However, on the positive side this expansive demographic force should make the difference when it comes to Scotland's vote of independence, as on the margin if logic prevails I would expect that Scotland will continue to choose to remain part of a Union. Why? Because association with a rising Britain will give Scotland greater prosperity and security, than if it were to go it alone. Furthermore, by choosing independence and affiliation to the EU, Scotland would be backing a losing horse, as it is inevitable that the EU will fail and break up unless it undergoes a radical revision, which seems unlikely (http://www.davidmurrin.co.uk/blog-entry/europes-prospects-continue-to-be-bleak). The only reason why the Yes Campaign has gained such momentum is because of the fumbling policies of Britain's politicians (http://www.davidmurrin.co.uk/blog-entry/britains-moribund-government).
I refer the readers to Part I: Regionalisation, the first phase of a new British cycle.