Submitted by
David
on
Thu, 16/07/2015 - 10:13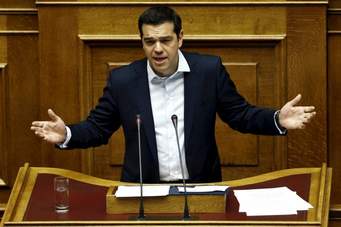 The Greek crisis has cast a very uncomfortable light on the reality of the EU.
In Greece they have had a referendum based on a democratic process not to accept the EU's terms. In an astonishing series of negotiations, Alexis Tsipras, the Greek Prime Minister, then accepted the proposal due to the pressure that European Leaders and in particular Wolfgang Schaeuble, German Federal Minister of Finance placed on the talks.
Facing short-term catastrophe with the collapse of the banking system and a humanitarian disaster, the Greek politic body quite logically blinked. However, the deal does not solve the core Greek problem, that they will still be unable to pay off their debt burden even after nationalising their sovereign assets, raising taxes and imposing further draconian measures. In the meantime, the Greek people face more punishing austerity, without any uplift from positive demographics or natural resources. It is inevitable that the Greeks will soon revisit the crisis, but this time they will hope to use the loans to strengthen their position. We believe a Grexit is a forgone conclusion and the delay and humiliation Greece has suffered at the hands of Germany will not be forgotten or forgiven by the Greek people.
We would expect the markets to reflect the core instability of the EU now the deal has been approved by the Greek parliament. In past crisis the real financial declines often begin after the last hope of a deal is struck and reality sets in. The Greek bailout, if that is how it is referred to, is in effect a false dawn and we expect the Euro to decline over the summer and for the European stock markets to follow suit. In a clear judgement, the EU is on the rocks. However, one should remember that ships struck on rocks still take time to break up piece by piece.