Submitted by
David
on
Fri, 31/01/2020 - 14:44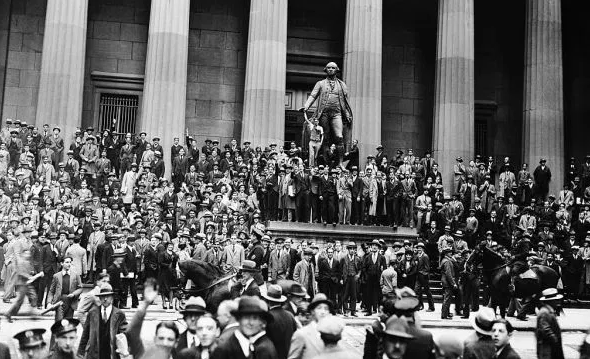 Will financial History repeat itself?
This image from 1929 of desperate investors gathering in desperation outside the wall street exchange has always fascinated me. 91 years later the question has to be, could this happen again?  As followers of my Murrinations will be aware, we have been predicting the imminent march towards a major market dislocation that has a high probability of being of the same magnitude as the 1929 crash in its economic impact, and similar with respect to gaping price action, as everyone simultaneously tries to exit through a small door.
Today whilst China has been brought to a standstill by the Wuhan virus, America is still carrying on business as usual. However, we expect the stock markets to start to accelerate to the downside in the days ahead. However we note market psychology can at times be slower than expected to respond to big events such as the Wuhan virus. However when the sentiment turns negative we expect it to switch very rapidly and will be monitoring the price action with respect to risks of repeating an event of a 1929 magnitude. https://www.davidmurrin.co.uk/blog-entry/the-last-domino-is-falling
We expect further price weakness in the next few weeks, which could be very sharp due to the massive excess of long positions. Such price action would confirm my view that all the dominos are down and  we are into a very dangerous financial slide. One that will significantly impact every nation, company and individual over the next 12-18 months
With this in mind, if you are an:
1.      Asset Manager interested in specific actionable Financial Market Predictions and or our Arkent Scenario.
2.      C Suite Executive seeking to understand and mitigate your company's macro risks
My exclusive analysis and consultancy could help you negotiate these challenges and enhance your profitability and survivability.
To find out more about the essential nature of this service please contact me on: Contact David