Submitted by
David Murrin
on
Thu, 30/09/2021 - 09:00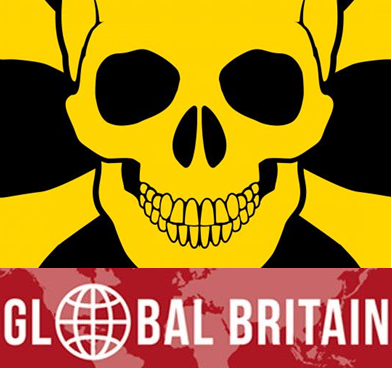 In a post-COVID and Brexit world, in which energy inflation is rising and where we spend an hour a day trying to fill our petrol tanks to get to work, it would be easy to think that the world is going to 'hell in a handbasket'. However, whilst those woes may impair our day-to-day lives, they are not of the magnitude of an existential threat that could destroy our democratic way of life, as the Chinese Communist Party (CCP) threatens to do. The UK government must do better in its process of governance, to lessen the string of poorly handled domestic crises of their own making. Global Britain must prioritise its national resources to deter the next world war.
To that end, 12 months ago, we published our Now Or Never Defence Review which catalysed the PM to announce that defence was once more a key government policy. During the intervening time, as we predicted, the geopolitical shifts have come fast and furious. Many of which, as we commented at the time, were not anticipated in the rather sleepy and watered-down Government Strategic Defence Review, which has left Britain deeply exposed to its many enemies as they gather at the gates.
Britain has exited the EU, but Brussels, and Macron, have done all that is possible to punish the UK, and in the process weakened our economy and even more critically our defence cooperation with Europe.
Macron with his EU agenda seeks to undermine NATO, which is the foundation of deterrence and defence against Russia. Britain's counter is unilateral relations with nations like Canada to secure the Arctic seas, as the ice melts, and to better control the choke point which is known as the Iceland Faroes gap.
America, through Biden's appeasement policy, has demonstrated that America cannot be relied upon as a stalwart ally, as best exemplified by his Afghan withdrawal and his lame defence policy.
Putin's aggressive tactics against Britain, as the strongest of European nations, have continued, and are especially manifest in his penetration of British territorial waters by his submarines.
Iran continues to seek to choke key maritime trade routes in the Middle East.
China, the nation that the Government's defence review refused to recognise as a clear and present danger, has become increasingly aggressive. Whilst Britain has thrown its hat into the Pacific theatre by creating alliances like AUKUS, and strengthened links to India and Japan that are designed to contain Chinese ambition, in a forward defence policy that also seeks to build economic relations with the fastest-growing region in the world.
The conclusion is obvious: that Britain, the only expansionary nation in the West in its return to a global maritime paradigm, is more alone in the world than it has been since 1940. All the while, it has set a course to go head-to-head against China, which also has similar ambitions, without appreciating that it has done so whilst nations like Russia and China have been expanding their military capabilities and deploying new, advanced weaponry. Britain has neglected its armed forces for two decades – especially its first line of defence, the Royal Navy. Whilst our guidelines for dramatically increased defence spending and the armed forces should remain valid as outlined in our Now Or Never Defence Review, time is running out to deter WW3, as highlighted in Red Lightning.
What is blindingly obvious is that Britain's first line of defence is once more the Royal Navy, which is today way too small to cope with the multitude of simultaneous threats it now faces. As such, it is time for a UK emergency warship-building programme of the type initiated in the naval race with Germany from 1906, double the size of our submarine frigate and destroyer force in service by 2025.
Next, Global Britain Needs An Emergency Warship Building Programme.
Further Reading
Navy offers Canada help standing up to Russia and China in the Arctic
Image