Submitted by
David
on
Fri, 17/07/2020 - 10:11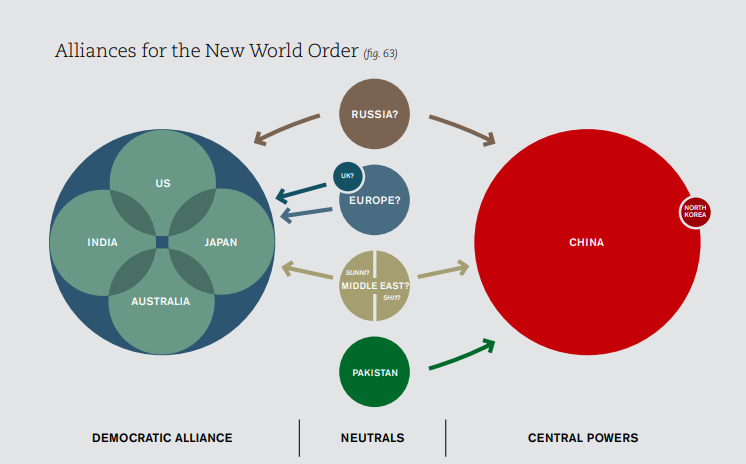 In 2008 recognising that new threats begat new alliances, especially when an old hegemony is in decline and needs  allies to hold back the young hegemonic challenger. I sought to anticipate what the new alliance structure would look like in the run-up to a potential WW3 from 2025 onwards.I have included the extract of my thoughts below, as  It would seem that I was correct in almost every detail as outlined in the Times recently as below The danger for China is that its aggression acts as a catalyst to unite countries against it. Where once Beijing could pick countries off one by...
To continue reading this post...
Subscribe To Gain David's Insights
Read David's Murrinations in full, predictions, strategy and analysis, covering the latest significant financial, geopolitical and environmental developments around the world.
A subscription will give you instant access, as opposed to a 6 week delay for non-subscribers.
Choose Your Subscription
Free Trial
Start a 21 day free trial now
FREE

3 Month Subscription
£50 per month
£150
Annual Subscription
£40 per month
£480
Prices excluding VAT (UK only).
If you are already a subscriber login here
Free Arkite Membership
You will receive Arkite Alerts with invites to webinars, information relating to the site development and urgent heads up on very significant events. You will also receive Murrination email alerts but will not be able to click through and read them in full for 6 weeks.
Strategic Market Perspectives and Financial Market Analysis
David also offers Arkent Scenario Updates - unified strategic market perspectives and Financial Market Analysis - real time trade recommendations across Equity Indices, Companies, FX Bonds, precious metals and commodities.