Submitted by
David
on
Mon, 17/02/2020 - 18:17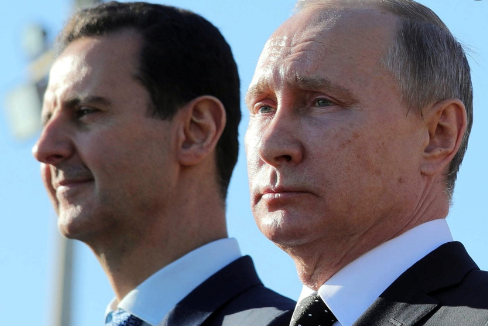 Syria is a troubled state in the Middle East, that has been embroiled in bloody civil war for a decade. However, the consequences of that struggle have not just been regional, but have been extended far more widely. When Obama put down his chemical red line to Syria and Russia, which was quickly crossed, Putin's response with his letter in the New York Times, added to Obama's humiliation. Determined to get his own back, Obama catalysed the Ukraine revolution that overturned a pro-Russian government. This forced Putin to invade Ukraine, to secure what he and all Russian leaders before him, have perceived to be the soft underbelly of the motherland. The consequence was that Russia was ostracised from the West and forced into the arms of China, to forge a growing alliance. A strategic own goal of enormous proportions.
Today Turkey,  is a NATO member, that is facing aggression from the Syrian army which is supported by Putin. The US has been quick to support Turkey in an attempt to mend its differences with this key NATO state. However, Turkey's expansive energy, as outlined in The Rise of The  Second Ottoman Empire, coupled with Putin's potential future need for an existential crisis to distract his population from economic hardship when the oil price continues to drop, makes this  zone and especially the city of Idlib a potential  flashpoint that deserves close scrutiny in the weeks and months ahead.Especially as Erdogan has set a two week time line for the Syrian Army to withdraw.
There is one additional  dimension to the formation of this potential  flash zone that could ignite a trough war. America's oil production is currently the largest in the world, and hence its policy over the past decade of pulling out of the Middle East. However, if we are correct about the collapse in oil below $27, many of the oil shale resources that comprise American Production today, will become uneconomical below $40,effectively shutting down huge swaths of US production.This will either force the US back into the Middle East, in which case their support for Turkey as a regional strategic partner will be reinforced. Or they will have to accept paying almost twice the price for domestic oil as the rest of the world, at a time when the global economy will be on its knees, only  adding to the economic drag.The latter outcome would be the least likely. Thus we conclude that the Syrian flash point could not only potentially bring together regional powers but also two great nuclear powers each with their own competing agendas.
Additional Reading
COMMODITY ECONOMIES PART 1 - RUSSIA THE NEED FOR RAPPROCHEMENT WITH THE WEST.
TRANSFORMATION WITHIN CRISIS: PART II THE RISK OF A TROUGH WAR WITH RUSSIA