Submitted by
David
on
Wed, 15/09/2021 - 10:56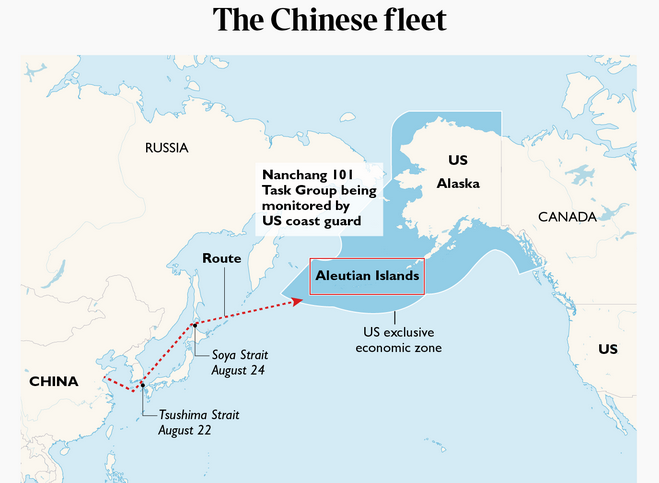 As we predicted and feared Biden's retreat from Afghanistan, has encouraged a wave of Chinese aggression that is now building a head of steam. First, there were the new rules of exclusion applied to the nine-dashed line PLAN control zone. Xi Wastes No Time Taking Advantage of Biden's Weakness. Next North Korea fired off a new cruise missile. Recognising That North Korea Is A Puppet of Beijing Now the PLN is sending its first expeditionary naval force into America waters, comprising two Missile Destroyers the Type 055 Nanchang, the newest and most powerful PLN ship which in real...
To continue reading this post...
Subscribe To Gain David's Insights
Read David's Murrinations in full on the website, predictions, strategy and analysis, covering the latest significant financial, geopolitical and environmental developments around the world.
Read the newspapers for yesterday's news or read David's Murrinations for future trends and strategies.
A subscription will give you instant online access, as opposed to a 6 week delay for non-subscribers.
Choose Your Subscription
Free Trial
Start a 14 day free trial now
FREE

3 Month Subscription
£50 per month
£150
Annual Subscription
£40 per month
£480
Prices excluding VAT (UK only).
If you are already a subscriber login here
Free Arkite Membership
You will receive Arkite Alerts with invites to webinars, information relating to the site development and urgent heads up on very significant events. You will also receive Murrination email alerts but will not be able to click through and read them in full for 6 weeks.
Strategic Market Perspectives and Financial Market Analysis & Forecasts
David also offers Arkent Scenario Updates - unified strategic market perspectives and Financial Market Analysis & Forecasts - real time trade recommendations across Equity Indices, FX, Bonds, Emerging Markets and Commodities.